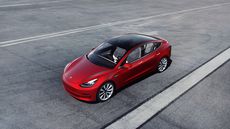 Model 3 is a smaller, simpler and a more affordable electric car. Designed and built as the world's first mass-market electric vehicle, it is a critical step in Tesla's mission to accelerate the world's transition to sustainable energy.
Like every Tesla vehicle, Model 3 combines range, performance, safety and technology. Intelligent design maximizes interior space to comfortably fit five adults and all of their gear. The high-efficiency powertrain provides zero to 60 mph acceleration in as little as 3.2 seconds.
Model 3 is designed to achieve the highest safety ratings in every category. With 220 to 325 miles of range and a starting price below $40,000 before gas savings and incentives, Model 3 is Tesla's most affordable vehicle yet.
Model 3 deliveries began on July 28, 2017 at the Tesla Factory in Fremont, CA. It is currently available for purchase on Tesla.com in a number of different configurations, including Standard Range Plus, and Long Range battery options. Certain variants are available with Dual-Motor All-Wheel Drive for superior performance and traction in any weather, and Model 3 Performance is also available for best-in-class acceleration. Please visit our Design Studio to see available options.
Technische Daten
---
| | | |
| --- | --- | --- |
| Verbrennungsmotor | | |
| Bauart | -- | |
| Hubraum | -- | [ccm] |
| Nennleistung | -- / -- | [kW] / [PS] |
| Nenndrehzahl | -- | [1/min] |
| Maximales Drehmoment / Drehzahl | -- /-- | [Nm] / [1/min] |
| Kraftstoff | -- | |
| | | |
| --- | --- | --- |
| E-Maschine | | |
| Bauart | -- | |
| Dauerleistung | -- / -- | [kW] / [PS] |
| Maximalleistung (10s) | --/-- | [kW] / [PS] |
| Nenndrehzahl | -- | [1/min] |
| Maximales Drehmoment / Drehzahl | -- / -- | [Nm] / [1/min] |
| Nennspannung | -- | [V] |
| | | |
| --- | --- | --- |
| Elektrischer Energiespeicher | | |
| Bauart | Lithium-Ionen | |
| Energieinhalt | -- | [kWh] |
| Nennspannung | -- | [V] |
| Zellen / Module | -- / -- | [--] / [--] |
| Maximale Leistung | -- | [kW] |
| Gewicht | -- | [kg] |
| | | |
| --- | --- | --- |
| Abmessungen | | |
| Länge | -- | [mm] |
| Breite | -- | [mm] |
| Höhe | -- | [mm] |
| Radstand | -- | [mm] |
| cW-Wert | -- | [--] |
| Querschnittsfläche | -- | [m2] |
| | | |
| --- | --- | --- |
| Gewicht | | |
| Leergewicht (nach EU) | -- | [kg] |
| Zulässiges Gesamtgewicht | -- | [kg] |
| Zulässige Anhängelast (gebremst/ungebremst) | -- | [kg] / [kg] |
| | | |
| --- | --- | --- |
| Verbrauch | | |
| Innerorts | -- | [l/100km] |
| Ausserorts | -- | [l/100km] |
| Kombiniert | -- | [l/100km] |
Fotos
---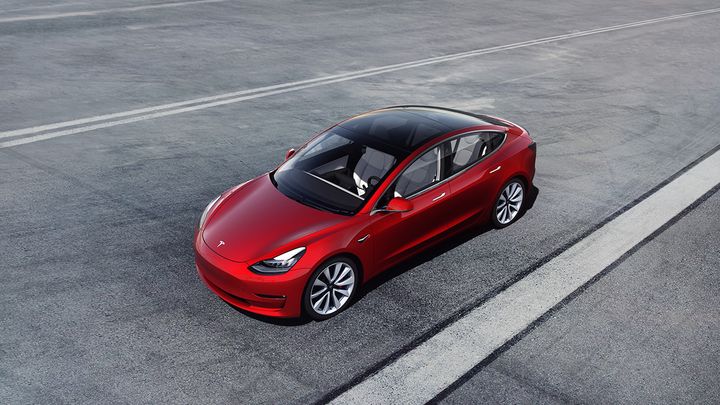 Quelle: Tesla