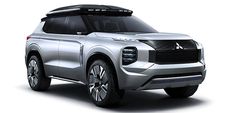 World Premiere for MITSUBISHI ENGELBERG TOURER
Tokyo, March 5, 2019 - Mitsubishi Motors Corporation (MMC) is giving the MITSUBISHI ENGELBERG TOURER new-generation crossover SUV its global premiere at the 89th Geneva International Motor Show, March 5th through 17th. Embodying the "Drive your Ambition" corporate global tagline, the MITSUBISHI ENGELBERG TOURER uses MMC's own and advanced electrification and all-wheel control technologies to raise SUV appeal to a new level.
Concept
Engelberg is a well-known ski resort in the Central region of Switzerland that offers grand panoramic vistas and is known, as well as for its groomed runs, for its challenging off-piste runs that offer freestyle and freeriding fun for skiers and snowboarders.
MITSUBISHI ENGELBERG TOURER is a Twin Motor 4WD plug-in hybrid EV (PHEV). As befits the Engelberg Tourer name, it offers high levels of running performance that allow the driver to enjoy driving in any weather condition or on any road surface with confidence. It combines this with the long cruising range inherent to the PHEV and that allows journeys out of town to places with no charging infrastructure. The excellent packaging combines passenger capacity with a variety of storage space to allow family and friends to spend a satisfying time on the way to their destination. It stirs driver and occupants' curiosity and sense of adventure as they seek to go further, as they seek to take a step beyond anything they have experienced before.
Onboard technologies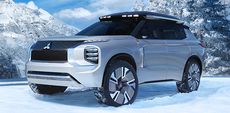 MITSUBISHI ENGELBERG TOURER takes MMC's Twin Motor PHEV system fostered and developed in the Outlander PHEV and, using next-generation electrification and all-wheel control technologies, evolves it into an even more appealing vehicle propulsion system. In addition, the combination of the PHEV system with connected car technologies means the MITSUBISHI ENGELBERG TOURER can be driven in all weathers and over all types of road with greater reassurance.
PHEV system
・MITSUBISHI ENGELBERG TOURER uses a PHEV system that befits a top-of-line next-generation crossover SUV. The large capacity drive battery is fitted beneath the floor in the middle of the vehicle. It uses MMC's Twin Motor system that locates high output, high efficiency motors at front and rear, but provides a cavernous cabin space that allows 3-row seating.
・The engine is a 2.4L gasoline unit designed for the PHEV system. In series hybrid mode, the engine acts as a high-output generator and achieves a high regeneration rate, while the larger displacement makes for quieter operation and better fuel mileage. In addition to the higher efficiencies in the PHEV system itself, MITSUBISHI ENGELBERG TOURER uses detail low-consumption technologies such as radiator grille shutters that bring a reduction in drag.

・MITSUBISHI ENGELBERG TOURER has an EV cruising range of over 70km (WLTP cycle), and with a fully charged battery and full fuel tank it has a total cruising range of over 700km (WLTP). This means driver and passengers can enjoy the smooth, powerful and quiet driving inherent to an EV for longer still.
4WD System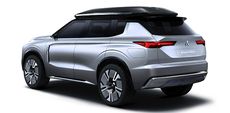 ・MITSUBISHI ENGELBERG TOURER uses MMC's Twin Motor full-time 4WD system with high output, high efficiency motors driving the front and rear axles and, employing the knowhow garnered with the Lancer Evolution series, uses Active Yaw Control (AYC*2) to tailor torque split between the front wheels. These components are used together with MMC's Super All-Wheel Control (S-AWC) integrated vehicle behavior control system which delivers a dramatic improvement in dynamic performance – acceleration, cornering, stopping – by integrally controlling the braking force at each wheel (Anti-lock Braking System, ABS) and the front and rear motor output (Active Stability Control, ASC*3).

・The Twin Motor 4WD driveline delivers outstanding front/rear torque split response and is also distinguished by the feeling of acceleration inherent to electric motor drive which generates maximum torque in an instant. Torque split control between the front wheels improves driving performance to deliver a level of nimble and feel-good handling unimaginable in this size of car. It also increases stability by reducing wheel slip on unmade and snow-covered roads to ensure that maximum drive torque is transmitted to the road surface.
Technische Daten
---
| | | |
| --- | --- | --- |
| Verbrennungsmotor | | |
| Bauart | -- | |
| Hubraum | -- | [ccm] |
| Nennleistung | -- | [kW] / [PS] |
| Nenndrehzahl | -- | [1/min] |
| Maximales Drehmoment / Drehzahl | -- | [Nm] / [1/min] |
| Kraftstoff | -- | |
| | | |
| --- | --- | --- |
| E-Maschine | | |
| Bauart | -- | |
| Dauerleistung | -- | [kW] / [PS] |
| Maximalleistung (10s) | --/-- | [kW] / [PS] |
| Nenndrehzahl | -- | [1/min] |
| Maximales Drehmoment / Drehzahl | -- | [Nm] / [1/min] |
| Nennspannung | -- | [V] |
| | | |
| --- | --- | --- |
| Elektrischer Energiespeicher | | |
| Bauart | -- | |
| Energieinhalt | -- | [kWh] |
| Nennspannung | -- | [V] |
| Zellen / Module | -- / -- | [--] / [--] |
| Maximale Leistung | -- | [kW] |
| Gewicht | -- | [kg] |
| | | |
| --- | --- | --- |
| Abmessungen | | |
| Länge | -- | [mm] |
| Breite | -- | [mm] |
| Höhe | -- | [mm] |
| Radstand | -- | [mm] |
| cW-Wert | -- | [--] |
| Querschnittsfläche | -- | [m2] |
| | | |
| --- | --- | --- |
| Gewicht | | |
| Leergewicht (nach EU) | -- | [kg] |
| Zulässiges Gesamtgewicht | -- | [kg] |
| Zulässige Anhängelast (gebremst/ungebremst) | -- | [kg] / [kg] |
| | | |
| --- | --- | --- |
| Verbrauch | | |
| Innerorts | -- | [l/100km] |
| Ausserorts | -- | [l/100km] |
| Kombiniert | -- | [l/100km] |
Fotos
---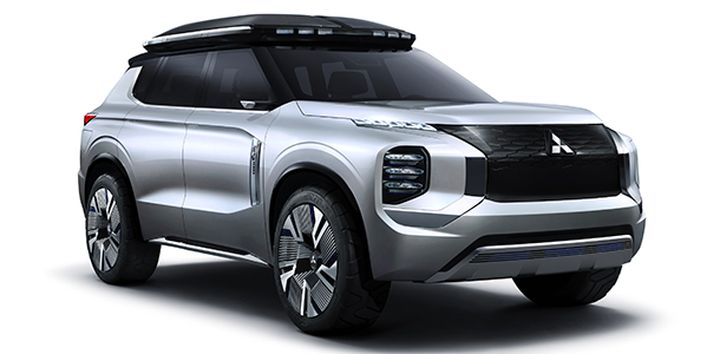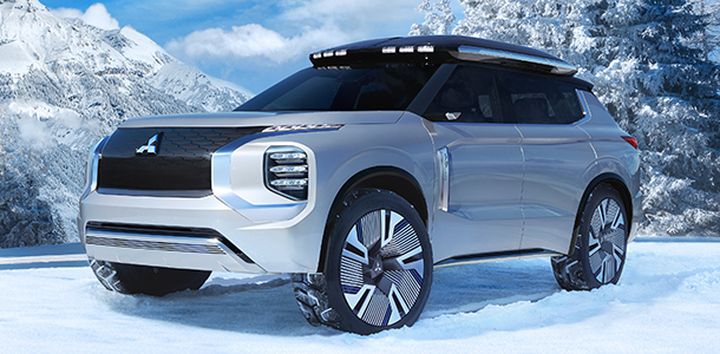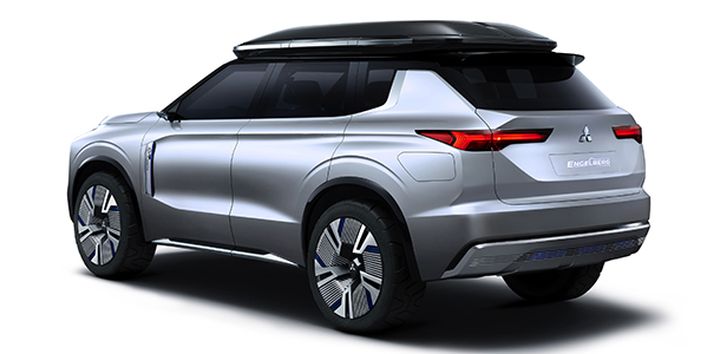 Quelle: Mitsubishi Motors